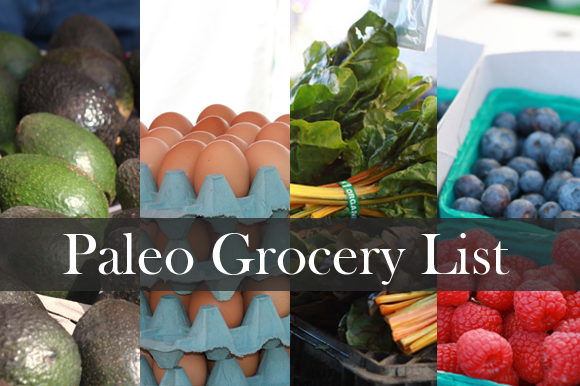 When choosing to eat Paleo it can sometimes be daunting when making a trip to the grocery store wondering what the heck you are supposed to eat. Some people (some of my family members ha) are under the impression that all you eat is nuts and berries and that is not true at all. Once you get the hang of all the foods you can eat it is so much fun to get creative in the kitchen. So I made a Paleo grocery shopping list, which hopefully will give you a little guidance if you are unsure what exactly you should be getting. This list is pretty basic and there is obviously much more you can eat but this is a good list to start with if you are new to the diet.
Vegetables (should be the bulk of your shopping):
Cucumbers
Mushrooms
Romaine lettuce
Kale, swiss chard and other leafy greens that you like
Cauliflower (keep in mind this is a very versatile vegetable and you can make "mashed potatoes" "rice" and more with it)
Tomatoes
Carrots
Green beans (great for snacking)
Sweet potatoes
Fruit:
Strawberries
Apples
Bananas
Avocados
Grapefruit
Cantaloupe
Oranges
Peaches
Plums
Kiwis
Lemons/limes
Meat/Seafood:
Fish- make sure it is wild caught and not farm raised
Ground turkey
Grass fed beef
Organic chicken
Shrimp
Scallops
Bacon
Tuna
Mahi Mahi
Tilapia
Beef or Terky Jerky
Drinks:
Almond milk
Coconut milk
Green tea
Coffee
Cooking/baking:
Coconut oil
Raw honey
Almond meal
Coconut flour
Cocoa powder
Other:
Eggs
Almonds, cashews, walnuts or whatever mixed nuts you like
Almond or sunflower seed butter
Almond milk
Coconut milk
Herbs for baking
Lara Bars
Unsweetened dried fruit
Avoid:
Dairy
Processed foods
Refined sugar
Wheat
Hope this gives you a little more insight about the foods you can eat on the Paleo diet! If I am missing any important ones please feel free to leave them in the comment section.