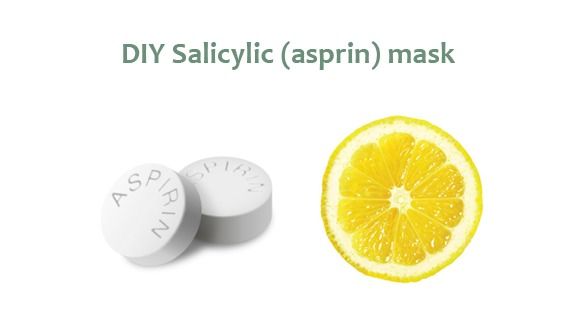 A typical professional chemical peel will cost you anywhere from $60-$150 depending on which one you go with and how deep you want to go. I charged $60-$80 to give you an idea.
This week I am going to show you how to make your own at home (very mild) inexpensive salicylic peel using aspirin. This treatment is pretty awesome!
The "Aspirin Mask" has been around forever, although Dr. Oz came up with the brilliant idea of adding lemon juice to it. The lemon juice will give your skin a natural boost of vitamin C, further assisting in making this home treatment top notch.
How does it work?
Aspirin is actually a form of salicylic acid. Salicylic acid increases cell exfoliation and helps with discoloration, fine lines and wrinkles.
What you will need:
4 non coated aspirin tablets
1 tsp of freshly squeezed lemon juice
Baking soda
Cotton pads
Directions:
Crush up the 4 aspirin and combine with the lemon juice.

Allow the aspirin to dissolve until it turns into a paste like consistency.
Using the cotton pad, apply it evenly across your face, avoiding the eye area.

Leave on for 10 minutes.

Remove with a cotton pad saturated with baking soda and cold water. The baking soda will help neutralize the peel. It may sting a bit when you remove it and this is normal.

Follow up with a good moisturizer and sunscreen.

Precautions:
Do not use if you are pregnant or breastfeeding.
Do not use if you are allergic to aspirin.
Do not use if you have Reyes syndrome.

Please use common sense when using this treatment. If it is burning or irritating your skin remove it immediately.
Always apply sunscreen after using any type of salicylic acid, since this will make you more sensitive to sun exposure.
Please note: This does not replace a professional treatment, but it will help with minor breakouts and congestion of the skin. It will also help soften and brighten your skin. If you are experiencing severe acne please make an appointment with a licensed and qualified esthetician to have a skin consultation.
If you like the idea of slightly more aggressive treatments that you can do in the comfort of your own home, I also highly recommend the
DIY Vitamin C Mask
, which is one of my personal favorites!