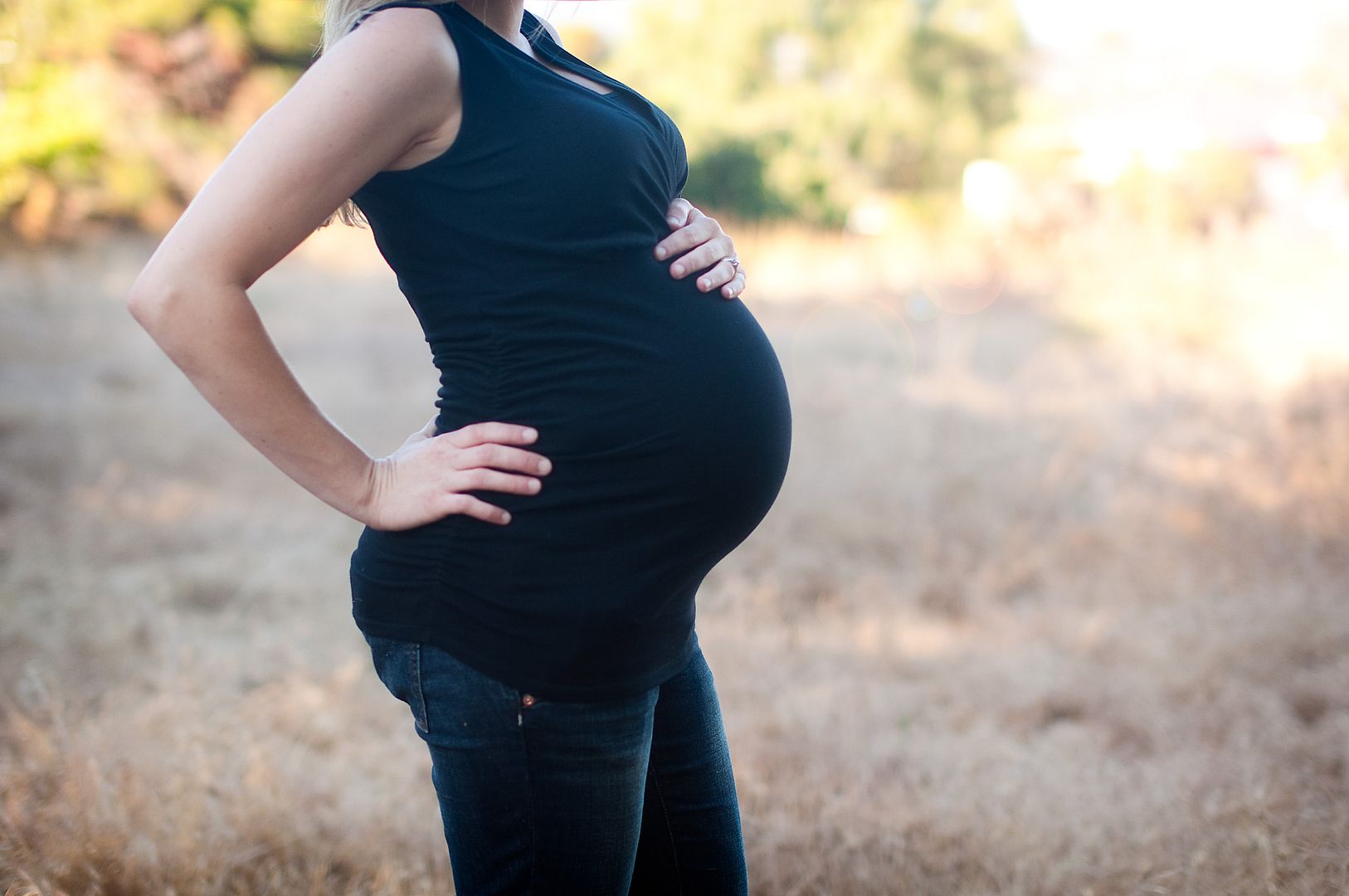 I was 36 weeks pregnant with Max here and my super talented cousin took this picture.
I wanted a baby so bad. It was all I could think about. But I knew because I was type 1 diabetic it would have to be planned and discussed with my doctor first.
About 8 months before trying to get pregnant I met with my endocrinologist. I told him we were hoping to get pregnant soon. After reviewing my A1C (a blood test that provides an overall picture of how you're managing your diabetes) he said he didn't recommend it until I got my A1C much lower. At that time my A1C was 8.7. Major bummer! I was exercising regularly (I was a running machine), eating somewhat healthy, my weight was great but I can admit that tight blood sugar control was not a huge priority. I was doing about 5 insulin shots a day back then and was somewhat flippant with when I wanted to do them. For example, I would eat a giant bagel for breakfast, spike to 350 and think, "Oh well it will come down after I go running." I remember feeling normal at around 200, which is not good at all and low at 120.
He told me that if I was to get pregnant now, my chances of having a miscarriage were
very
high (they are already high even if you have tight control). He also told me my baby would have a higher chance of having permanent complications that could effect the rest of their life as well as a higher chance of a still born. Comforting right? He even gave me specific examples of other girls that did not listen to him and got pregnant anyway and their babies either did not make it or were born with oversized organs (due to the mother having uncontrollable high blood sugars) which were life threatening. I did not want any of those scenarios to happen and I was ready to make some serious changes in my life.
Up until that day I had been anti insulin pump. The idea of wearing a pager sized device at all times tucked into my back jean pocket, poking out of my bra while wearing a dress or having a visible tube connected to my thigh while I was at the beach in my bikini did not sound awesome but I knew I had to have one regardless if I thought it looked cool or not.
I left the appointment that day with a prescription for an insulin pump and a continuos glucose monitoring system. A few days later a lady came to my house and got me all trained. I was officially connected to a pump and a separate little gadget that I wore on my stomach called a continuous glucose monitoring system. That night I went to bed with my first ever pump tucked into my sports bra.
It took about a week to get used to it but I noticed my blood sugars were improving almost instantly. I became even more military with my diet. I cut out starchy carbs almost completely since no matter what I always spike after eating them and I continued to exercise. I thought about every little thing I did and how it might effect my blood sugars. It felt good caring so much about my diabetes because I knew I was ultimately doing it for our future baby. About 4 months later my A1c was 6.9. My doctor said he would like it even tighter (geeeeeze doc) but gave me the green light to start trying! Now the fun part...kidding I won't go there ;)
4 long months later (I am not a patient person) we found out I was pregnant! I remember waking up that morning and thinking, "OH NO I HAVE THE FLU!"...but three positive pregnancy tests later we realized it was not the flu and we were going to have a baby! We cried, laughed and no idea what this diabetic pregnancy journey was going to look like but ready or not we were on the train.
If you are type 1 diabetic and thinking about getting pregnant here are a few things to keep in mind:
Plan it. While surprises might be exciting for your non-diabetic best friend, it is not the best idea when you are type 1.
Meet with your doctor and tell him you want to start trying. Get your A1C up to date and make sure you have the green light from him or her.
If you are able to get on the insulin pump, do it! You will not regret it and it will make managing your diabetes so much easier while pregnant.
Get serious about your diet. I personally cut out high carb foods and anything else that would spike my blood sugars. I had no idea what the Paleo diet was back then, but if I knew about it I would have been doing that without a doubt.
In future posts I will also be including more about how I dealt with my blood sugars during pregnancy (the weird spikes and the scary lows), how I dealt with morning (ALL freaking day) sickness, insulin changes, what I ate and more.

On a side note: This series will not be in any specific order because my brain does not work that way. Instead, I will be sharing different topics based on what comes to mind that particular week. But if there is anything in particular that you are really curious about please let me know in the comment section.
You can read the first post of the series
here
.
* I am not a doctor, I am simply sharing my personal story and what has and hasn't worked for me with type 1 diabetes. If you are thinking of changing anything regarding your diabetes management it is always best to talk to your doctor first.