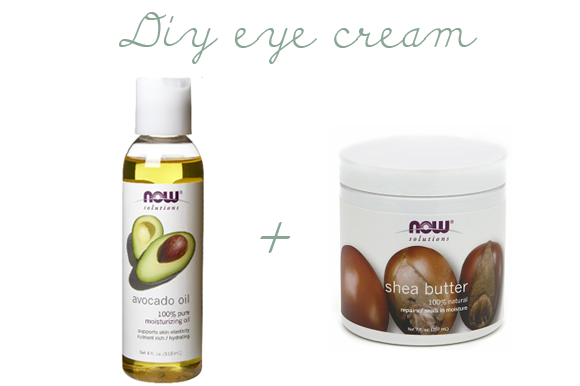 Last week I discussed the
importance of using an eye cream
. This week I am going to share a super simple hydrating DIY eye cream that is perfect for those of you would would rather DIY versus
buy
.
Both avocado oil and shea butter are known for their hydrating and moisturizing properties, making it the perfect marriage of ingredients for the delicate under eye area.
Avocado oil Benefits:
Extremely moisturizing.
It is a natural source of Vitamins A, D and E.
It is easily absorbed into the skin and can help with regenerating and softening of the dry eye area.
Contains potassium, which can help with the growth of new cells.
Supports skin elasticity.
Shea Butter Benefits:
It is a natural fat that is extracted from the nut of the African shea tree, which is very hydrating.
It is widely used in skin care to reduce the appearance of fine lines, scars and stretch marks.
It melts when it comes in contact with your skin (if you buy the real stuff you will see what I mean) and it is instantly absorbed, without making you feel like a greasy mess.
Has anti-inflammatory benefits.
Restores the natural suppleness of your skin.
DIY Under Eye Treatment:
Avocado Oil
%100 Pure Shea Butter *Make sure you read the back label before you purchase. You want to make sure the only ingredient listed is shea butter.
*You can find both of these ingredients at a health food store in the beauty section. Or you can purchase them
here
and
here
.
Directions:
Take a few drop of avocado oil and gently massage under each eye until fully absorbed.
Finish by applying a thin layer of shea butter on top. Gently massage into your skin until absorbed.
So easy and super cost effective!
You can use this DIY version morning and night.
Please come back and let me know what you think if you end up trying this out.