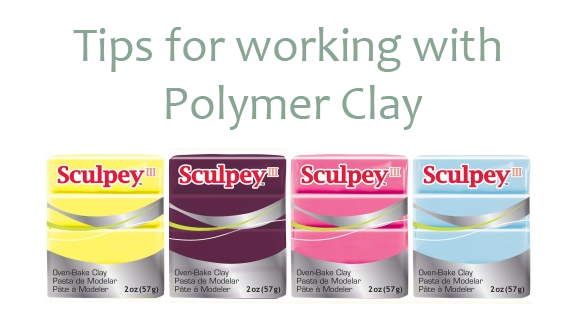 If you have been reading my blog for a little while you might be aware that I love polymer clay. It is such a great medium to work with and the possibilities of what you can create with it are endless.
It's like an adult version of playdough (that you bake) and once you get the hang of how to work with it you will never want to stop playing.
10 Tips for Working with Polymer Clay:
1. Choose your brand wisely. I have tried a few different brands and the clay that I have the most success with is
Sculpey
.
2. Always condition your clay before you get started. By warming the clay in between your hands and softening it up you will help prevent cracks after it is baked and it will be easier to work with.
3. Wear latex gloves to prevent fingerprints if your clay is really soft.
4. Do not get discouraged if your clay creation is not what you pictured. You can always mash it up and start fresh. That's that best part about working with polymer clay!
5. If you don't see a color you like when picking out clay, make your own custom shade by mixing colors together. This takes a little bit of time but I have discovered the best shades (like
this one
) by mixing my own colors.
6. If you are carving something from clay (see
this post
) stick your clay in the fridge for 6-8 minutes to harden. This will make carving so much easier.
7. Store unused clay in a zip lock bag and keep it in a cool place out of the sun.
8. If you are making bracelets (see
this post
) wait until your piece has fully hardened and cooled before trying it on. If you are impatient and do not wait it will break. I learned this lesson early on.
9. Always work on a really clean surface. Polymer clay is sticky and will pick up anything.
10. Have fun! The beauty of handmade is that is does not need to be perfect. Little imperfections will make it unique and special.
I will be following up this post with a fun polymer clay diy soon!