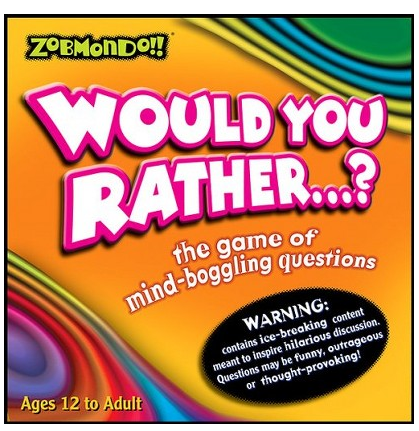 Ever since I was little I was completely obsessed with "Would you rather" questions. I remember sitting in the car with my Dad and I would ask him, "Would you rather get stabbed or jump off a cliff?" Yes I am aware that normal children most likely would not ask such questions ...but I really wanted to know.
I would fill long car rides with hours of strange questions and the game usually ended with one of my parents telling me it was "quiet time" now.
So when I recently discovered there was an actual game FILLED with ridiculous questions I knew it was a match made in crazy heaven!
The only problem is no one wants to play with me (sad). I bring it out at family functions and I get ignored! So I end up
completely
cracking myself up as I read the questions aloud and play the game by myself :)
I figured there MUST be people out there who enjoy this as much as I do...SO I am going to start a random little feature on my blog called "Would You Rather."
Are you ready for this awesomeness? I hope so!
Have your skin change into vibrant colors according to your emotional state (e.g red for anger, blue for sadness) -

OR

- wildly and uncontrollably flail your arms around whenever you walk?