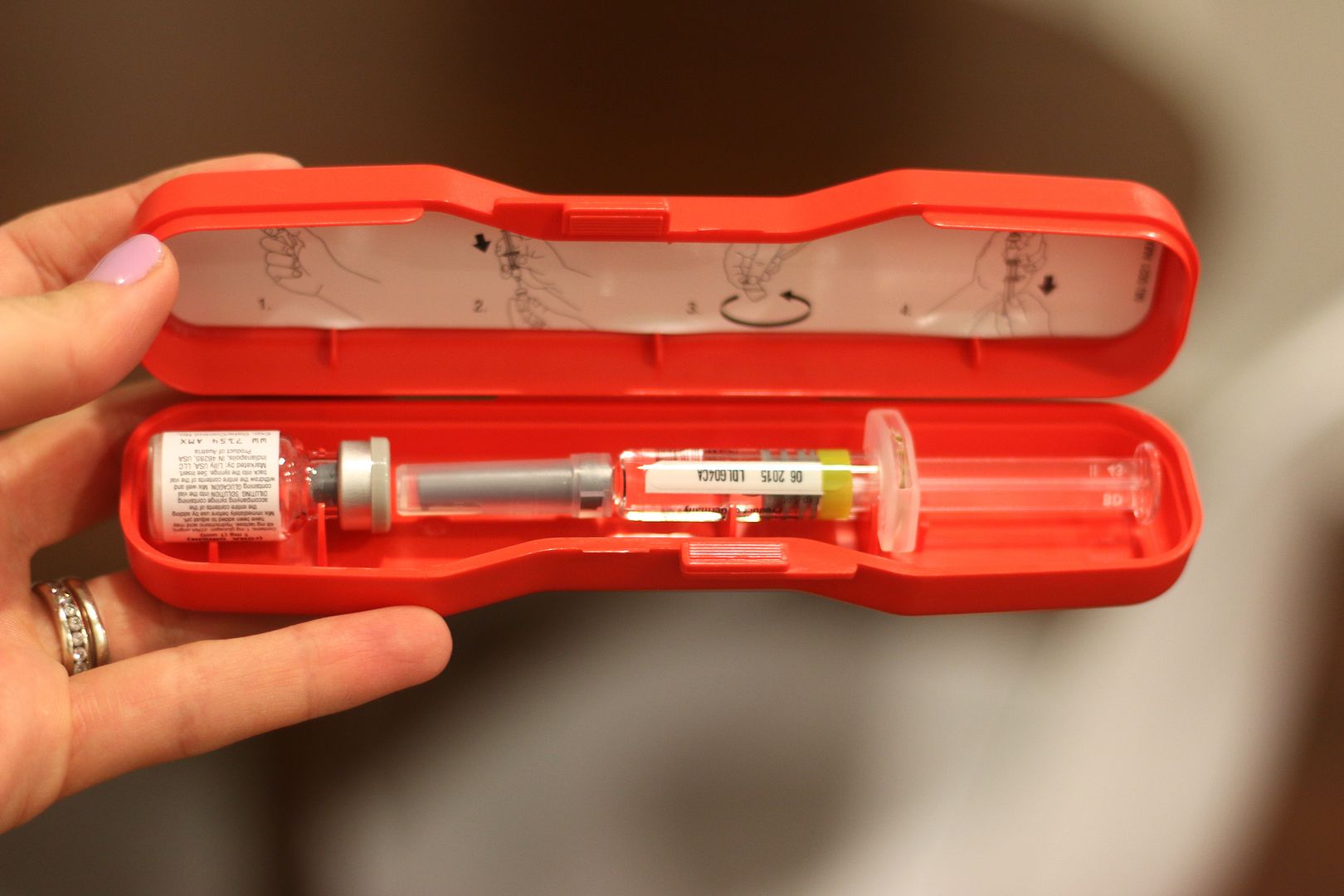 This is what a glucagon shot looks like. It is SO important that to have one in case of an emergency if you are type 1 diabetic. This will save your life.
My first seizure was when I was seven years old. It was only a few months after I was diagnosed with diabetes. I had a double header soccer game that day. I remember being so excited because I had scored around 10 goals and my Dad would give me a dollar for every goal I scored. I was rich haha!
I recently asked my mom to tell me the story of exactly what happened the morning of my first seizure. This was hard for her to tell me but I am sharing her story so that other parents with type 1 diabetics can be aware.
From my mom's memory:
"You were always active so when you were diagnosed with diabetes we did not want that to change for you, although your dad and I were still unsure exactly how exercise really affected your blood sugars at that point. You had played two long soccer games that day. You ate a ton of oranges and had a normal lunch. We kept your insulin the same as every other day (thats where we went wrong). I did the carb corrections for everything you ate just like we were supposed to. Your blood sugars that day were good. They were not too low and never got too high. That evening you were exhausted. We checked your blood sugar before you went to bed and it was perfect. Around 4am I had a weird feeling. I went upstairs and you were fast asleep. I looked a little closer and you were sweating. I checked your blood sugar. It was 35! I tried to stay calm and had you walk downstairs with me to get juice. You were in a daze. We got downstairs and I told you to sit down on the floor. I ran to the kitchen as fast as I could while screaming to your Dad to come help me. Seconds later you were on the floor having a seizure. We were panicking and didn't know what to do! We called 911 and they said they would be there as fast as they could but in the mean time they told us it was vital to give you the emergency glucagon shot. We mixed the medicine up in the little bottle and injected it into your thigh. You seemed to slowly start to come out of it but you still were not our Lindsay. After what seemed like forever an ambulance showed up and off we went to the hospital."
I remember feeling so sick the next day. I also remember feeling like I had been run over by a truck. My whole body was sore and I just felt weak. My parents outlook on diabetes had changed after that...for good reason. Paranoia for them was kicked into overdrive. From that point on I was only allowed to spend the night at friend's houses whose parents were doctors or nurses, which basically eliminated everyone except a select few. I can only imagine how scared they must have been and I would have been the exact same way.
My second (and it will be my last) seizure was when I was 14. It was pretty traumatic. I was a freshman in high school and on summer break. That night I had gone out with a group of friends to Denny's. I ended up doing much more of a correction than I should have that night. At this time my parents were divorced and I was at my Dad's for the weekend. I remember waking up in a complete sweat and shaking like a leaf. I always kept my blood tester next to me on my night stand so I tested. I was 39. I couldn't get the damn straw out of the plastic wrap to drink my juice. I was panicking. I tried to get downstairs as fast as I could. We had these really steep stairs and I remember getting half way down and my brain was starting to take over. It was the scariest thing I have ever experienced. I knew I was going to have a seizure and I was still on the stairs. I tried screaming out to my Dad but all I could get out was a muffle. I tried to walk down one more stair while holding onto the rail and my body went stiff. In my mind I was trying to scream for help but nothing was coming out. It went black from there. My Dad did hear my muffle scream...I am pretty sure he woke up to a whisper since my first seizure and thankfully gave me the glucagon shot as fast as he could. He told me my head was in a pool of blood at the bottom of the stairs and he had no idea where it was coming from. Turns out I had bitten my tongue really bad. I woke up not to long after with a team of paramedics around me hooking me up and getting all my vitals. I was still out of it but I heard one of the paramedics say, "She might have broken her nose and definitely cracked a few teeth." To this day I still can see all of the faces that were surrounding me as I was waking up. After a day stay in the hospital I came home. Thankfully I had not broken my nose but I did indeed crack a few teeth which was fixable.
After that seizure I vowed to never have another one again. And since then I have gotten even lower at times (I was 29 once while I was pregnant!) and was able to get my act together and treat it as fast as it could. Now that I am a mom I never go anywhere unless I am prepared for the worst. I bring my glucagon and never ever leave without tons of juice in my car.
How I am prepared and deal with extreme lows:
If I test and I am really low I try to stay calm. The mind is a very powerful thing and I have noticed that if I start to panic my blood sugar will drop even faster and I will start to lose control. I am in control and that is what I tell myself when I go really low.
I treat lows with juice or honey and sometimes both. I do tend to overcorrect for a low and don't always follow the 15 gram rule (sorry doc) but I would rather be over cautious than not.
I always keep a juice box with the straw out next to my bed. If I feel too low to test I just drink it and worry about testing later.
If I am having a day where I exercise more than normal I will lower my insulin and check more frequently. Sometimes I even set an alarm on my pump to wake me up in the middle of the night to test.
My husband is the most together person I have ever met and he knows exactly where my glucagon is and how to use it if I ever needed it again. He has also dealt with me being really low before and has handled it like a champ (more on that later).
I have had many talks with Max (my three year old) about me being low. He understands fully. He knows where the juice and honey is if I need it and can't get to it. He also knows not to drink the kids juice boxes in my car. He is a special little person for sure. It makes me cry writing this but you must involve your family. It is so important.
Telling these stories was not easy but I want to share because it can happen. And the best way to prevent it is to always be over prepared in any situation.
If you are type 1 diabetic and have had an extreme low or seizure I would be so grateful if you shared your story as well. How do you treat lows and what solutions have you come up with that work the best?
See also:
Exercise and blood sugar management (not as easy as it may seem)
How I prepared for pregnancy