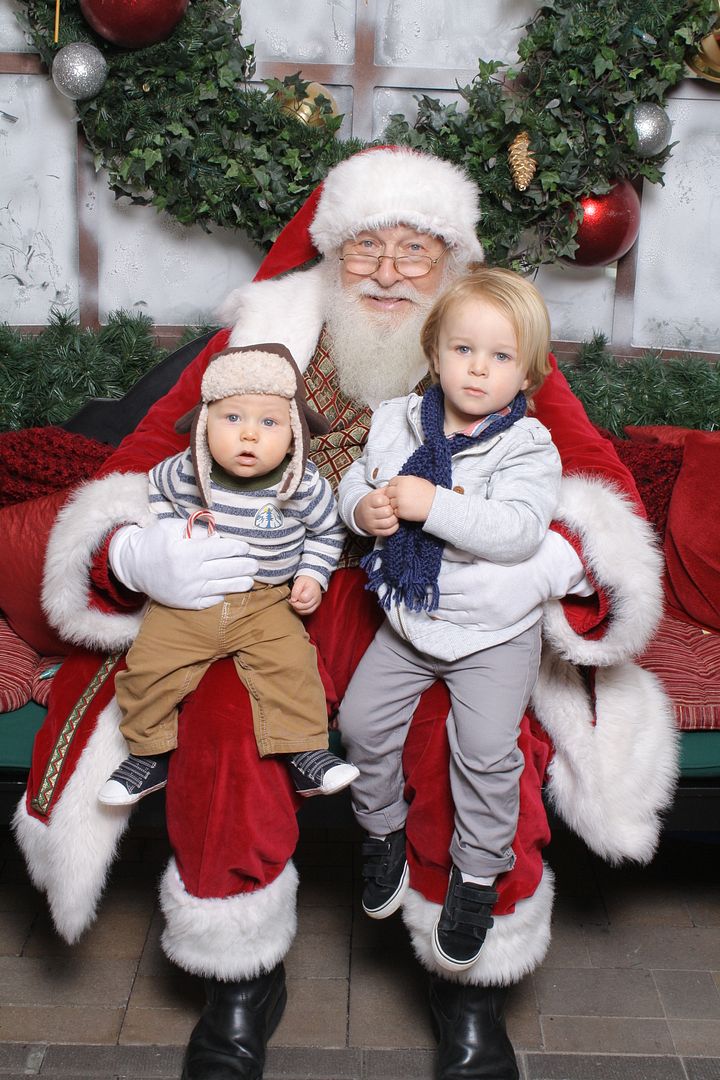 Don't they looked so stoked to be sitting on Santa's lap? Ha! At least it's better than last year where we waited in line for two hours and then when Max got up to see Santa he acted like he was going to skin him alive. The kid lost his mind, no joke! This year Max was SO excited to see Santa. He was talking about it for weeks and then when he actually got up close and sat on his lap, he froze. He said "Hi" in a little teeny tiny whisper and then jumped off his lap and asked me, "Where are the reindeer Mom?"
Anywhoo...Christmas is almost here! This has definitely been the most fun year yet. Max and I have been baking and doing all kinds of fun Christmas-y things. Speaking of baking...DO NOT ever ever buy parchment paper from the dollar store, unless you want to burn down your kitchen. I thought I was being thrifty when I purchased about 5 rolls of the stuff recently. Yesterday as our cookies for Santa were baking in the oven I thought to myself, "Hmmm those cookies sure do smell crispy!" I opened the oven to check on them and a cloud of black smoke comes pouring out! I freaked out and could not for the life of me remember what to do if you have a fire in your oven! I should probably google that. So I shut the door and thankfully it went out! Whew! So moral of the story, Dollar Store parchment paper sucks big time.
Hope you have a wonderful weekend. My little sister is getting married tomorrow. I can not believe it! Such an exciting time. Until I get back to blogging after Christmas I will be posting pictures on Instagram if you want to see updates (Delightedmomma).
Have a very merry Christmas! XO