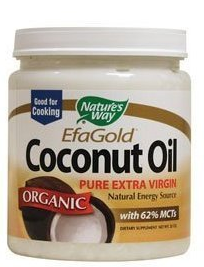 Coconut oil is awesome...actually it's amazing. I am sure most of you are thinking, "Blah blahhhh...I have already seen a million articles on the benefits of coconut oil." BUT wait... today I am going to share some other (hopefully new to you) ways that you can use it.
I can not take full credit for this post, since my step mom is the one who recently sent me an e-mail with over
160
ways to use coconut oil! That is quite a few and I know you don't have all day to read so I am going to pass on the most useful ones. She is also an esthetician and has her license in holistic and alternative healing so she knows her stuff.
So what's so great about coconut oil? It is...
Anti-bacterial
Anti-carcinogenic (enhances the immune system)
Anti-fungal
It is an antioxidant (helps prevent free radical damage, which causes aging)
Anti-parasitic (can help rid body of lice and other parasites)
Infection fighting
Has no harmful or discomforting side effects
Nontoxic to humans and animals.
What kind should you buy?
The most beneficial coconut oil is virgin unrefined. Make sure that is says food grade on the jar.
Uses for coconut oil:
After shave. It is great for treating and preventing razor burn.
Hair loss. I am so trying this! You apply it to your scalp and leave it on over night. It helps support cell regeneration.
Burns. Apply to burn site immediately. Will reduce the chances of permanent scarring.
Diaper rash. This is all natural and contains no weird chemicals like most diaper rash ointments and creams.
Puffy eye reliever. Apply to your eyelids in the evening and walla! (someone yelled at me one time in the comment section and told me "walla" was not a word)...yes it is so there.
Lubricant. Okay this one gets a little personal...but if you are in need this is all natural and perfectly safe ;) It is not compatible with latex though.
Tattoo healer. Used on new tatoos it will help speed up the healing process and help prevent infection.
Breastfeeding. For breastfeeding Moms consume 3 1/2 tablespoons of coconut oil daily. It will enrich your milk supply. Moms...this WORKS! I do this.
Energy boost. It boosts energy endurance making it a great supplement for athletes.
Butter substitute. Use one cup to one cup ratio when replacing butter in a recipe.
Nutritional supplement. Melt and add to smoothies.
If you are taking it internally how much should you consume?
Here is a guide based on your weight:
175+ = 4 tbs daily
150+ = 3 1/2 tbs daily
125+ = 3 tbs daily
100+ = 2 1/2 tbs daily
75+ = 2 tbs daily
Are you currently cooking with or using coconut oil for any health and beauty benefits? I would love to hear if you are.