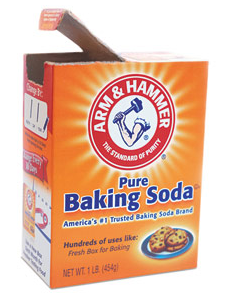 Sometimes the best things in life are...cheap. Yes, baking soda I am talking to you. I have mentioned it
before
but today I am going to share four other ways that you can incorporate it into your beauty regime for extra soft silky smooth skin.
Acne busting body scrub- Mix a small amount of baking soda with apple cider vinegar and use as an acne busting and purifying body scrub.
DIY microdermabrasion- similar to this post but mix one part water and one part baking soda and exfoliate for three to five minutes and rinse with warm water. You will not believe how smooth your skin will feel!
Spider bite reliever- UGH I hate ugly spider bites, especially when they are in noticeable places. Apply a little baking soda mixed with water to the bite and it will help relieve discomfort and tone down redness.

Green clay + baking soda mask or spot treatment- Mix a tiny bit of baking soda, green clay and water to make the ultimate zit busting mask. Use this as a spot treatment for blemishes or all over if you are experiencing an annoying breakout.
On a side note- this weekend while I was out grocery shopping at Trader Joe's I noticed that my checker had the most beautiful pearly whites that I have ever seen. I have no filter so I told her how amazing her teeth were. She got close and told me her little "secret"...baking soda. She said she was on a budget and can not afford white strips so she mixes baking soda with her toothpaste and brushes for a good five minutes with the stuff and tada! SO trying that!