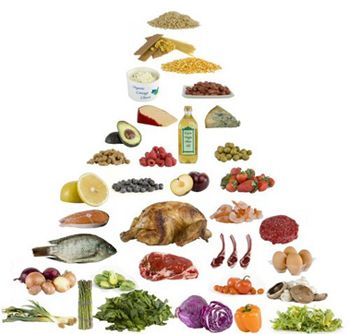 Image via
I would be lying if I said that I wasn't a little bummed out every time I try on my (non stretchy) pre-pregnancy jeans and they wont budge past my butt. I have tried to squeeze myself in them and I end up with that weird butt cleavage that you spot on Glamour's "Don't List." Not a good look. Since you can't suck in your butt I just have to wear stretchy jeggings until they fit again. I refuse to buy bigger clothes.
In an effort to somewhat shrink my larger behind I have gotten really serious about my diet. Because I am nursing I still need to be eating a good amount of nutrient rich foods and cant afford to cut back too much on calories since I know it will lower my milk supply. Eating healthy and low carb is already a priority in my life because I am type 1 diabetic but since I am determined to get back to my old self I recently realized it may be time to make a few changes.
This past month I have decided to go full Paleo. The Paleo Diet aka the caveman diet encourages you to replace dairy and grain with fresh fruits and vegetables. What I love about this way of eating is calorie counting is not encouraged. Awesome right? Basically you eat more (nutritious foods) and weigh less. It really is more of a healthy way of living compared to just a diet that you do for a few months. Since I already do not eat wheat and grain products I figured this would be a no brainier. Yes I do love my cheese and frozen yogurt so this was a little hard, but honestly I have never felt better. If you want to learn a little more you can read
this
post, which has some really great information.
So far I have noticed I feel less bloated, I have more energy (so important with two little boys) and my skin is the clearest it has ever been. Do I think this is for everyone? Absolutely not. I am just sharing what is working for me.
Are you currently cutting anything out in order to feel a little healthier? I would love to hear what's working for you.