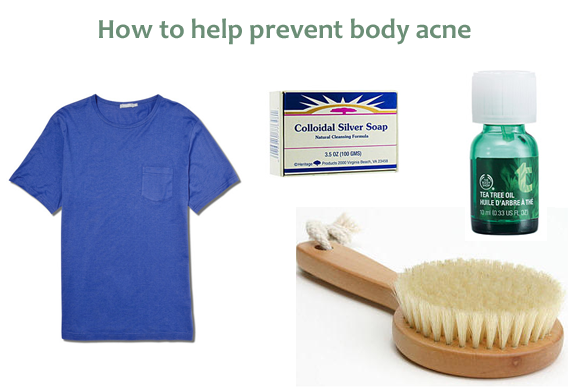 With spring in full swing and summer just a few months away, maxi dresses and tank tops are bound to be making their way into your wardrobe. Having back and chest acne can be annoying and frustrating.
While each case of body acne can be triggered by something different, here are a few simple tips that can help keep the skin on your body clear.
Wear breathable cotton t-shirts to bed
- If you are prone to back and chest acne it is very important that you let your skin breath at night.
Don't sit around in your sweaty workout clothes
- If you are an avid gym goer, make sure you change your sports bra and gym shirt as soon as you can after working out. Leaving on your sweaty sports bra is a sure way to cause irritation and breakouts due to bacteria and perspiration not being washed off.
Use tea tree oil as a spot treatment/toner
- Tea tree oil is awesome! It is an all natural topical treatment that can be used to treat acne. It not only kills the acne causing bacteria but it also reduces redness and inflammation. To read more about tee tree oil see
this post
.
Dry brush your skin
- The dry brush technique helps to open blocked pores and exfoliate dead skin cells which can really help improve skin texture and appearance. This really needs a post all on its own (which I will eventually do). You always want to dry brush first thing in the morning before you take a shower. For each area of the body there is a different technique. For the back, start brushing at the base of your neck and brush down using fluid stokes down to your tailbone. For your chest, use fluid stokes and brush up. After brushing your skin, rinse off in the shower.
Use
an anti-bacterial soap such as colloidal silver antibacterial soap
- Colloidal silver soap is the best! I recently discovered this heaven sent soap after doing my own research for annoying pregnancy induced arm breakouts. Its anti-bacterial benefits are amazing and this has completely cleared up any congestion that was on my back and arms. I LOVE this stuff. It is pretty hard to find, but some specialty health food stores will carry it or you can order it online
here
.
Hope you find these little tips helpful and I hope you feel confident in showing off your shoulders and back this spring and summer.