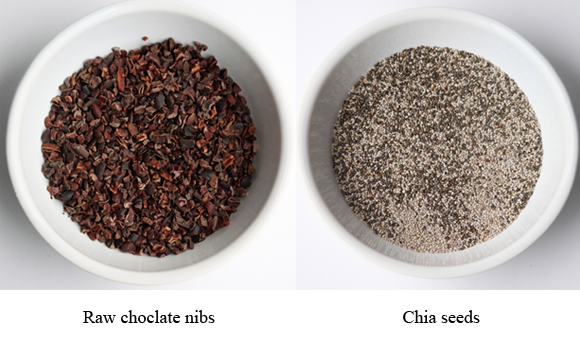 I love quick and easy snacks that I can just grab and go. These are perfect for that and loaded with good for you ingredients.
Raw chocolate nibs- are a Mayan superfood that are packed with antioxidants and known to be one of the highest dietary sources of magnesium.
Chia seeds- a superfood and one of the best known sources of essential fatty acids. They are also an excellent source of antioxidants, dietary fiber and protein. Another fun fact is chia seeds expand when wet so they make you feel full faster...always a good thing.
What you will need:
1/2 cup of shredded unsweetened coconut
1/2 cup of chia seeds
1/2 cup of raw chocolate nibs (your local health food store will have these)
1/2 cup almond butter
2 tbs of honey
1 tsp of cinnamon
Directions:
Throw all the ingredients into a bowl and mix together. Place in the fridge for 30 minutes and then roll into small tablespoon size balls. Place in an airtight container and keep in your fridge up to a week.

These little snacks are loaded with antioxidants and will keep you satisfied and full when you are on the go!
If you are interested in other recipes with chia seeds you can check out:
Chia seed coconut pudding
Vanilla chia seed fudge