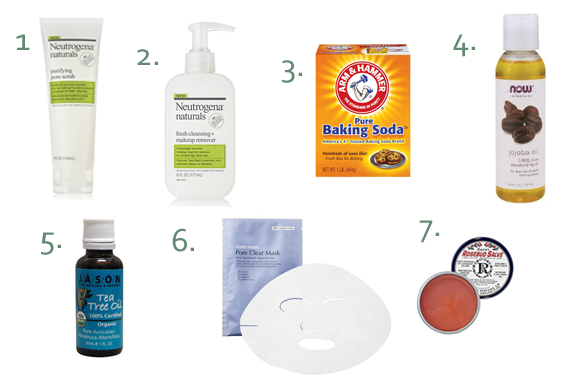 I have received a ton of e-mails asking if I can recommend skin care products that are reasonably priced but still do the trick. I decided the best way to address this question was in a post.
In my own business I use and sell a professional only line but I am all for sharing inexpensive products that work...all while saving you a few dollars along the way.
All of the products I have listed are under $10.
1.
Neutrogena Naturals Purifying Pore Scrub
- a wonderful exfoliator that is free of any harmful additives and it is safe to use everyday.
2.
Neutrogena Naturals Fresh Cleansing + Makeup Remover
- a gentle cleanser that cleans the skin and removes makeup without stripping your skin of it's natural oils.
3. Baking Soda- a personal favorite of mine! Add a tiny bit to your favorite cleanser and you have a homemade facial scrub. See full instructions
here
.
4.
Jojoba Oil
- the perfect all natural facial moisturizer. Jojoba oil is super light weight and actually mimics your own skin's natural oil production. It can actually "trick" your skin into thinking it has produced enough oil, which can help balance oil production. A few drops is all your need. You can also add a few drops to your favorite conditioner if your hair is feeling dry and frazzled.
5.
Tee Tree Oil
- a great spot treatment for acne. It is even better when applied cold. For more info you can read
this post
.
6.
Dr. Jart Pore Medic Pore Clear Mask
- a single use mask that tightens pores and controls oil. I have used this and I love it!
7.
Rosebud Salve
- a must have! This is one of my favorite products. Great for keeping your lips moisturized and also a great treatment for dry cuticles.
Do you have any favorite inexpensive products that you use and love? Please share!