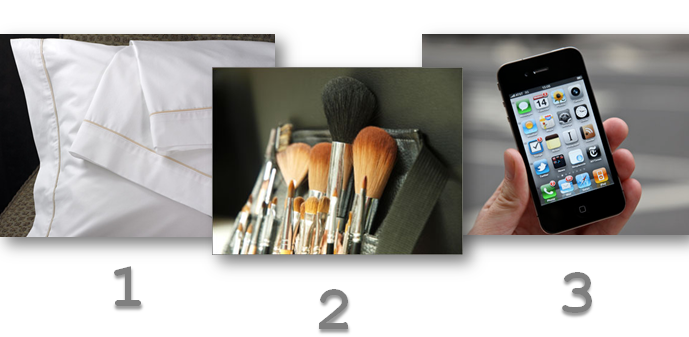 Sometimes the simplest little changes can improve your skin. Some of them we may not even think about. I am guilty of #3.

1.
Change your pillowcase more often

. This is always the
first post instruction I give my clients after a treatment. Changing your pillowcase

every other night

(sounds drastic) can be extremely

beneficial

to your skin. During sleep you sweat and drool (some more than others). If you are a tosser... you are rubbing your face in the pillow which results in dead skin cell debris on your pillowcase. If you keep placing your pretty face there night after night without changing it you may be causing unnecessary breakouts.


2.
Clean your makeup brushes

. I recommend cleaning your makeup brushes at least once a month. If you don't they can become a breading ground for bacteria.


3. Clean your cell phone daily.
Contact acne is very common. Whenever I have a client with random breakouts around the upper cheek area the first thing I ask is if she holds her cell phone on that side. Most of the time the answer is yes. Contact acne is pretty easy to avoid.. clean whatever is touching your face. The best way to clean your phone is by taking a damp cloth and wiping it daily to remove any excess makeup, oil and sweat.
On a side unrelated note: I hate commas....that is always why I do...FYI :)
Only a few days left to enter the
Apothica giveaway!