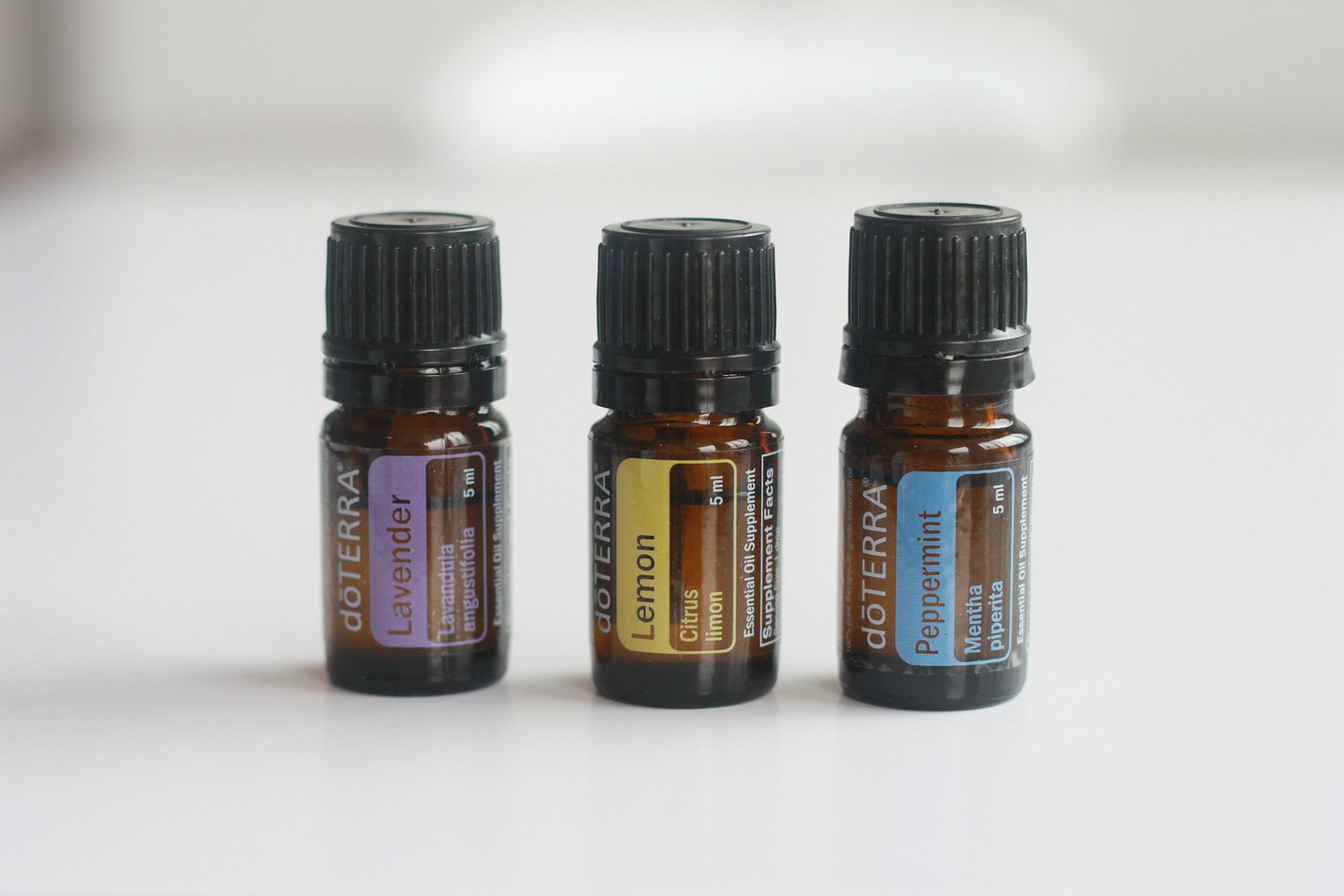 I have always been interested in the amazing benefits of essential oils, but to be honest essential oils is not something that I am super familiar with.
Amy
, who is a sweet blog reader recently contacted me and offered to send me a few of the doTerra essential oils she swears by to see what I thought. She also sent me all the information that I could ever need as to how exactly you can use them.
I have now been using the oils for two weeks and I LOVE them. I especially love the lemon, which has given me a natural boost of energy in the am when added to my water.
So today I am going to share my top 3 favorite oils that I have tried, along with the benefits and how you can use them.
Lavender:
Use to calm reaction to bee sting or bug bite.
Add a few drops to a spray bottle for a natural cleaning agent. Lavender's antibacterial, antibiotic, antiviral, antiseptic properties are great for spraying around your house.
Apply to wrists or inhale when traveling to ease motion upset.
Apply to back, hands or feet to help calm a restless or agitated child (need to try this on Ronin haha)
You can warm lavender (don't scald it), mix with olive oil and gently massage around the ears (not in the ears) and near glands in the throat to help relive earaches.
Use to calm or sooth diaper rash
Add a few drops to lotion for stress relieving effects.
Apply to dry chapped lips before applying lip balm.
Lemon:
Add a drop to your water in the am for cleansing effects. I have been doing this daily now love the way it makes my water tastes and the natural burst of energy it gives me.
Apply topically for mood elevation.
Add a couple drops to warm water & honey, which can help combat a sore throat, slow a nasty cough, and douse a fever. Lemon oil fights bacteria, as well as viruses.
Apply directly to cold sores for soothing relief.
Remove gum, label adhesives and greasy substances from fabric. Okay people this is magic how well this works!
Use to clean kitchen counters and stainless steel appliances.
Use it in baking. Amy said she makes delicious lemon cookies with it and I can not wait to try that!
Peppermint:
Rub on stomach or feet, or take internally to calm indigestion or upset stomach.
Mix with the lemon essential oil for a refreshing mouth rinse.
Add a drop to your tea to relieve heartburn.
Diffuse or apply topically to open sinuses and airways.
Mix with lavender to sore muscles or joints.
Breath during a meal to help you feel full. I like this one ;)
Apply topically for fevers and headaches.
Inhale as a non-stimulant pick-me-up on long drives.
Add a few drops to shampoo and conditioner for a refreshing hair and scalp treatment.
Use with lavender and lemon during allergy season.
Use in baking. I'm thinking I need to make some peppermint fudge with it asap.
Even though it may seem like I just listed a million benefits there are literally hundreds more.
And now for the giveaway! Today one lucky reader has the chance to win all
3 oils
mentioned above.
Here's how to enter:
Leave a comment below saying which oil you are most excited to try.
For Extra Entries:
(please leave separate comments for each additional entry):
Tweet about the giveaway. Please tag with @delightedmomma
Pin this post
Share on Facebook
The winner will be selected at random and notified by e-mail this Friday.
* If you do not want to wait to see if you won, you can purchase all the doTerra oils
here
.