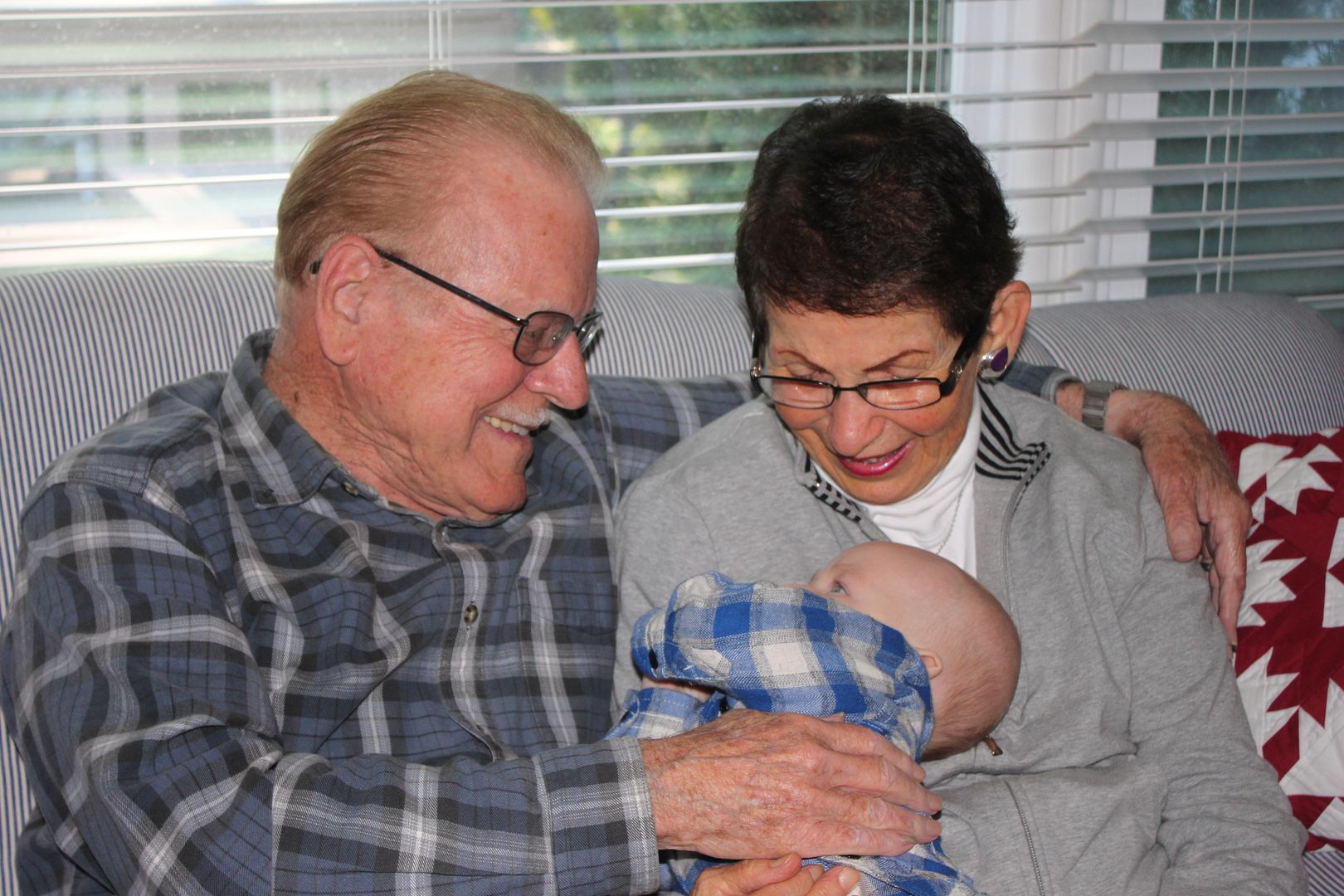 My grandparents holding a wiggly 5 month old Ronin.
Marriage is wonderful and in fact there is no other person in the world that I think gets me the way my husband does. It is also a lot of work and I do not think there is ever a point where you can say you don't have to work on things anymore and everything is perfect.
I recently asked my Grandparents, Meama and Poppy
if I could interview them about what they believe are the secrets to a long, happy and successful marriage. They have been married forever and are both almost 90. Every time I see them together I think to myself how sweet and in love they still are after all this time. After I tried my best to explain what a blog was and that is where I would be sharing their answers (pretty sure they are still somewhat confused) they happily agreed. Now they may not be licensed experts but sometimes experience is more credible than that.
The secrets to a long and happy marriage according to my Meama:
Find the right partner who has the same views and beliefs as you.
Do things together that you both love. "Once a week Poppy and I go on a date to Baby Cakes. We have coffee, split a cupcake and just chat." She said they both always look forward to it and talk about what cupcake they might get the night before.
Be willing to do things that the other person wants even if you don't always want to do it.
Be interested in the things that your partner loves.
Always tell your husband how much you love him and never stop cuddling.
At the end of our conversation she added, "I love him so much and truly can not live without him." This made me tear up because I know it really is true.
The secrets to a long and happy marriage according to my Poppy:
You have to be able to understand each other.
Always be respectful and do not call each other names.
Be absolutely truthful.
"If it's important to her, then it is important for us."
You have to be able to give and take.
After listening to them both give their individual takes on what makes a successful marriage I know for sure I learned a thing a two.