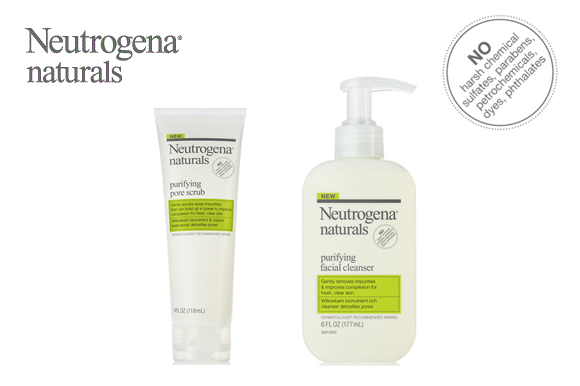 As a licensed esthetician I do not mess around when it comes to mentioning and recommending products on my blog. When I ran my own business I only sold professional products but when my clients asked me what they could use over the counter,
Neutrogena Naturals
was always one of my recommendations.
The Neutrogena Naturals line could not be more in tune with what I am always
preachin about
on my blog. All of the products are formulated without any harsh chemicals, sulfates parabens or dyes.
My two favorite Neutrogena Natural products (that I have tried) are:
Purifying Cleanser
- LOVE this one. It has a naturally derived salicylic acid, which makes it great for oily skin and it smells so fresh.
Purifying Pore Scrub
- Such a gentle scrub and great for imporving dull skin. I have mentioned it before
here
as well. I used this when I was pregnant and I loved it. This is also gentle enough for every day use for those of you who can't get enough of a scrub a dub scrub.
So for those of you who are looking for something affordable, natural and effective I highly suggest giving the Neutrogena Naturals line a try.
Sponsored by Neutrogena Naturals but all opinions expressed are my own. I would never recommend something that I have not personally tried and love

.