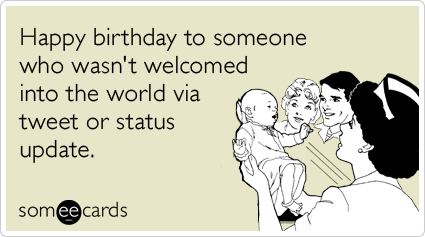 Image via
Yep today is my 27th birthday. I feel just as silly giving myself a birthday shout out as I did last year...but hey I'm doin it anyway!
I always crack up when I hear someone say it's their birthday "week" but I have officially decided that everyone needs a birthday week. My sweet husband has planned quite a few special little things for me, including a surprise something tomorrow and wine tasting this weekend. I am taking full advantage of my birthday week and I am completely fine with that.
This morning I am making Max and I
skinny pancakes
, since I am the only one who knows how to make them and my Mom is taking me shopping...just like the good ole days! I am also getting a new tattoo (one that has actual meaning this time around) in the next few days. Can't wait.
On a side note: My husband just looked over my shoulder and said, "You are actually announcing that it's your birthday on your blog?" Why yes I am :)