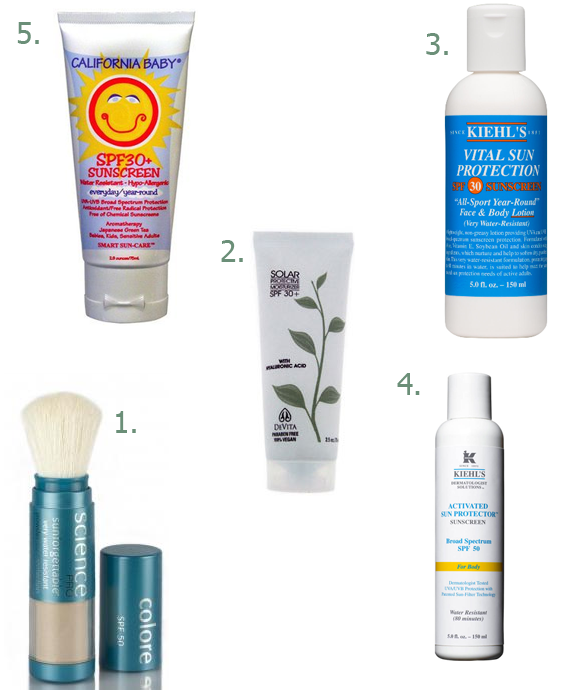 With summer in full swing, it is SO important that you keep your skin protected from harmful sun rays. Sunscreen is the only product that I never ever leave the house without it on my face.
I have had many of you e-mail me asking what sunscreens I recommend. Since everyone has different needs and lifestyles, here are my top favorite sunscreens that I recommend depending on what you are looking for.
#1
Colorescience Pro Sunforgettable Mineral Powder Sun Protection SPF 50
- I love this stuff! It is a powder formula that quickly absorbs into your skin. All you have to do is brush it on and you are protected. I even got my husband to use this, since he hates the feeling of wearing sunscreen. If you are prone to acne this is also for you. It is a bit pricey but you would be surprised at how long this lasts.
#2
DeVita Solar Protective Moisturizer SPF 30
- This is a moisturizer and sunscreen all in one. If I am ever going to recommend a product that I know everyone will like, this is it. I love how light and non greasy this product is. It leaves your skin looking dewy and soft. It is also %100 vegan and paraben free.
#3
Kiehls Vital Sun Protection Lotion SPF 30
- This is a great sunscreen if you are are active or are going to be in a out of the water because it is very water resistant. It will keep you protected for up to 80 minutes in the water. It is also non greasy which is always a plus.
#4
Kiehls Activated Sun Protection For Body SPF 50
- Love this body sunscreen! It is lightweight, water resistant and paraben free. It is also reasonably priced. Highly recommend this if you want to be protected while still enjoying a nice day out in the sun.
#5
California Baby SPF 30 Sunscreen
- When in doubt, choose a baby sunscreen. This chemical free sunscreen goes on smooth and does not leave a white residue. It offers UVA and UVB protection. It also contains Japanese green tea which protects your skin from free radical damage. This is also the sunscreen I use for my kids and I really love it.
And there you have it! My top sunscreen recommendations. Do you have a favorite? Please share if so.