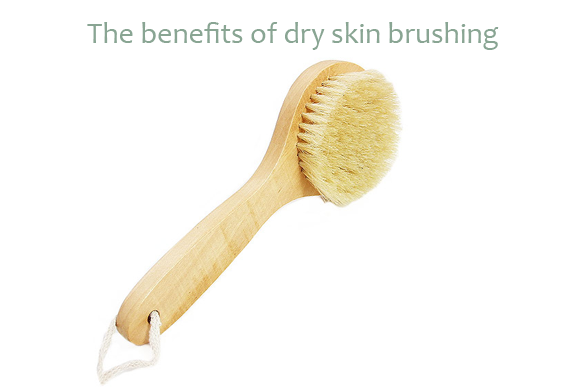 I first learned about this wonderful body exfoliating technique when I was going through esthetician school. I now incorporate it into my morning skin/beauty routine on a weekly basis. I briefly mentioned the dry brush technique in
this pos
t
, but I wanted to give you a little bit more of an extensive how- to for those of you that were interested.
What is dry brushing?
The dry brush technique is a natural and proven way to improve the the overall appearance of your skin.
What you will need:
A natural bristle brush (shown above) with a long handle. You do NOT want to use a synthetic brush (synthetic fibers can cause small scratches on the surface of your skin).
The benefits of dry skin brushing:
Helps exfoliate dead skin cells, which can leave your skin looking lackluster and dull.

Helps improve circulation and brings blood flow to your skin.
Provides a gentle internal massage, which can help eliminate toxins.

Helps eliminate clogged pores and your skin is able to absorb more nutrients.
It helps with ingrown hairs and razor burn. I personally vouch for this one.

It makes your skin incredibly soft!

How to dry brush your skin:

You only need to do this once a day and it is best to do it first thing in the morning.
Always dry brush your skin when you are completely nude.
Start at your feet and work in long upward strokes towards your heart. You never want to brush away from your heart because this puts extra pressure on the valves and lymph vessels within the veins.
Be gentle and brush lightly where the skin is thin (like the breasts) and use a little more pressure where the skin is thicker.
Brush upwards on the back and use downward strokes from the neck.

Brush your tummy in a circular motion.

Hop in the shower immediately after to rinse off the dead skin.

Follow up with a moisturizing oil such as almond, olive, grapeseed or coconut oil.
And there you have it! Keep in mind that if you only do this once you will not reap the benefits. It is best to do this at least 3-4 times a week consistently to see all the benefits.