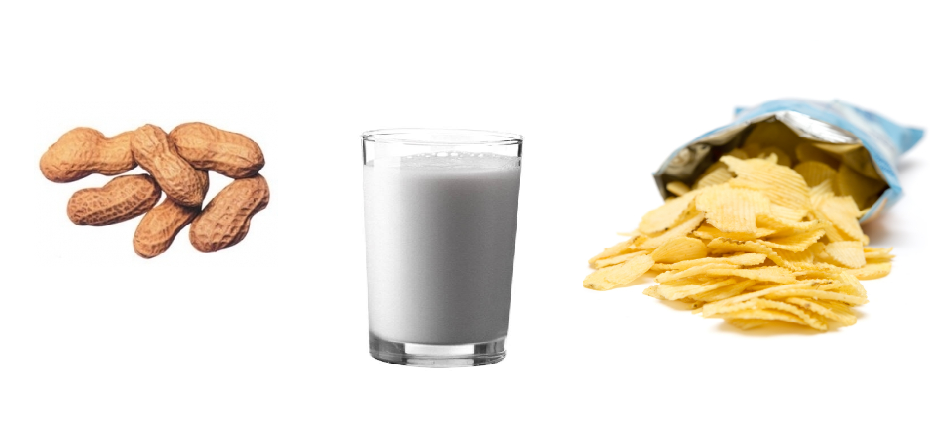 Every esthetician has their own opinion about whether or not food causes acne. While I
do not
believe that eating a piece of chocolate will cause you to break out into a pimply mess, I do believe that everything you eat impacts your skin one way or another. Eating too much of a certain food can cause blockage in your digestive tract as well as other
internal issues
and this in turn can cause you to break out.
I am not suggesting you stop eating or drinking these foods altogether (I LOVE a good milk latte) I am just saying if you are having trouble with your skin you may want to think about cutting back on these.
3 foods that may be causing skin problems
Peanuts
- Peanuts are actually legumes (a plant that bares its fruit in a pod)
not a nut
. Unfortunately peanuts are
very
prone to mold and fungi and that is why so many people have allergic reactions to them. I also personally notice every time I indulge in one too many peanuts I break out like clockwork. Even though peanut butter is SO good a better choice for your body and your skin is almond butter.
Cows Milk
- Milk is a mucus forming food that overtime can build up along the walls of your intestines. This can make you tired, cause acne and other non beautifying things that you most likely want to avoid. A better choice for everyday consumption is almond milk (my favorite), coconut milk and hemp milk.
Processed Foods
- I am sure you are aware that most chips and processed foods are not healthy for you. The reason for this is because they are loaded with chemicals that give them that cheesy or artificial flavor and bright coloring. Your body is not meant to consume mass amounts of these foods and when you do your digestive tract has to work extra hard just to digest them. This in turn can cause your skin to show signs of distress, aging and acne.
If you would like to learn more about beautifying foods and foods you should avoid for better health and skin I highly suggest
The Beauty Detox Solution
.