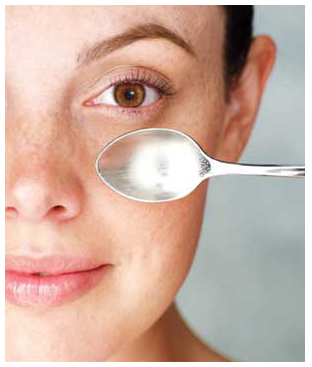 We have all had those mornings where we wake up and think, "
WOaaaa
my eyes are SO puffy!" Bummer. Never a great way to start your morning.

What causes puffy eyes?
Dehydration. Maybe you had a little too much fun the night before. Time to hydrate with water...lots of it.
Too much salt and/or processed food in your diet.
Hormones
Lack of sleep

Heredity
Allergies
Certain medications
A more serious medical condition. If you have constant puffy eyes it may be the underlying root of something else. Making an appointment with your Dr. is always a good idea just to be on the safe side.

This week I am going to share an easy and effective way to help de-puff your peepers in no time flat.
Frozen spoons.
Place two metal spoons in the freezer or in a cup of ice. Place the backside of the spoons over your eyelids for about 6-8 minutes. Viola!
If this is your first time here, I included a few links to past skin care tips you may want to check out.

How to make your own natural exfoliator

What your skin is telling you

Common face washing mistakes
DIY green clay mask
On a side note: If you are a blogger and are in need of a cute new header, check out this awesome giveaway going on
LaDitta Design
!