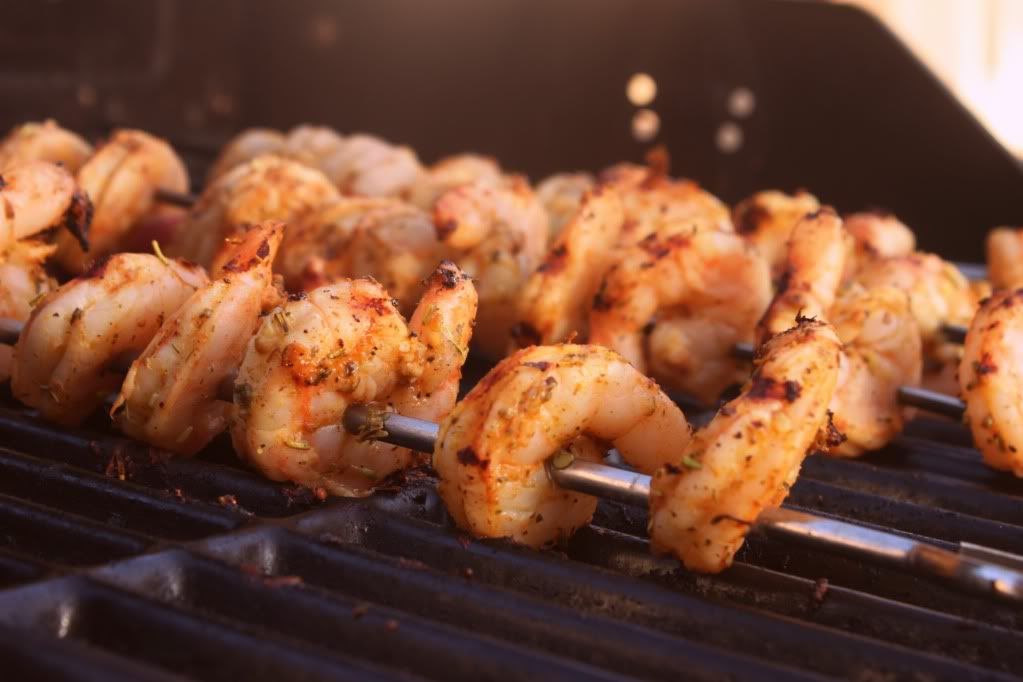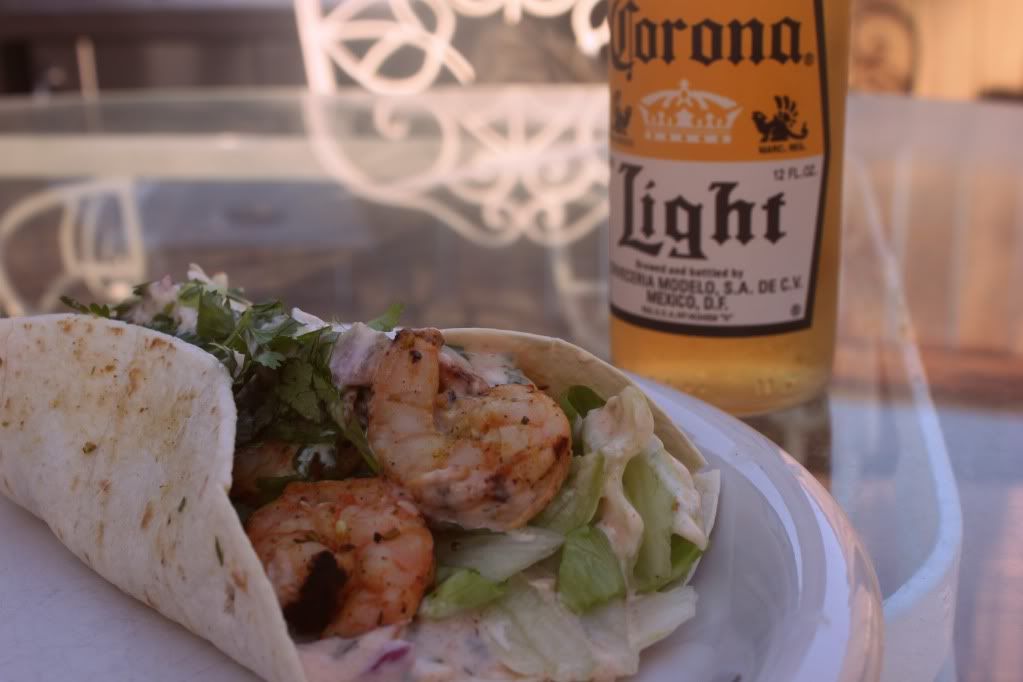 Happy Cinco De Mayo! Even though I am not of Mexican heritage I love just about any excuse to make a delicious Mexican meal...and drink a Corona of course ;) Tonight I made low carb citrus shrimp tacos...Ian had 5 so I can officially say they were a hit!
What you need:
1 pound of shrimp (I really don't like buying frozen shrimp...it's one of those weird things that I get freaked out about so I bought fresh Tiger Shrimp from Henry's)


4-5 skewers for grilling the shrimp

2 tbs of Mexican seasoning (bought at Henry's)

2 cloves of garlic minced

1 red onion


1/3 cup lime juice

4 tbs of lemon juice

7 Mission Carb Balance flour tortillas...5 for Ian one for me and one for his lunch tomorrow :)

1 head of iceberg lettuce, finely shredded

1/2 cup of fresh cilantro



What you need for the citrus cream sauce:
1 tub of light sour cream

1/2 cup of diced red onion

a dash a salt..then a few more..

a few dashes of pepper

2 tsp of Mexican seasoning

1/2 cup of cilantro

3 tbs of lime juice



1) Combine the lime juice, lemon juice, garlic, onion and Mexican seasoning in a bowl. Add shrimp and coat with the marinade.
2) Preheat grill to 400 degrees. Place shrimp on the skewers and place on the grill. We like our shrimp extra crispy so I grilled them for about 10 min total.
3)Combine all the ingredients for the citrus cream sauce
4)Spread a good amount of the cream sauce on the bottom of the tortilla (which I also warmed up on the BBQ) and place 5-6 shrimp on each tortilla.
5) Add a dollop ( I like that word) more of the sauce on top of the shrimp. Add sliced iceberg lettuce and garnish with the cilantro!
6) Enjoy!!
Lesson learned:
NEVER ever turn the skewers with your bare hands (HELLO)....because when the grill is turned up to 400 degrees this is HOT....I have two lovely little burn blisters to remind me I should never do this again.