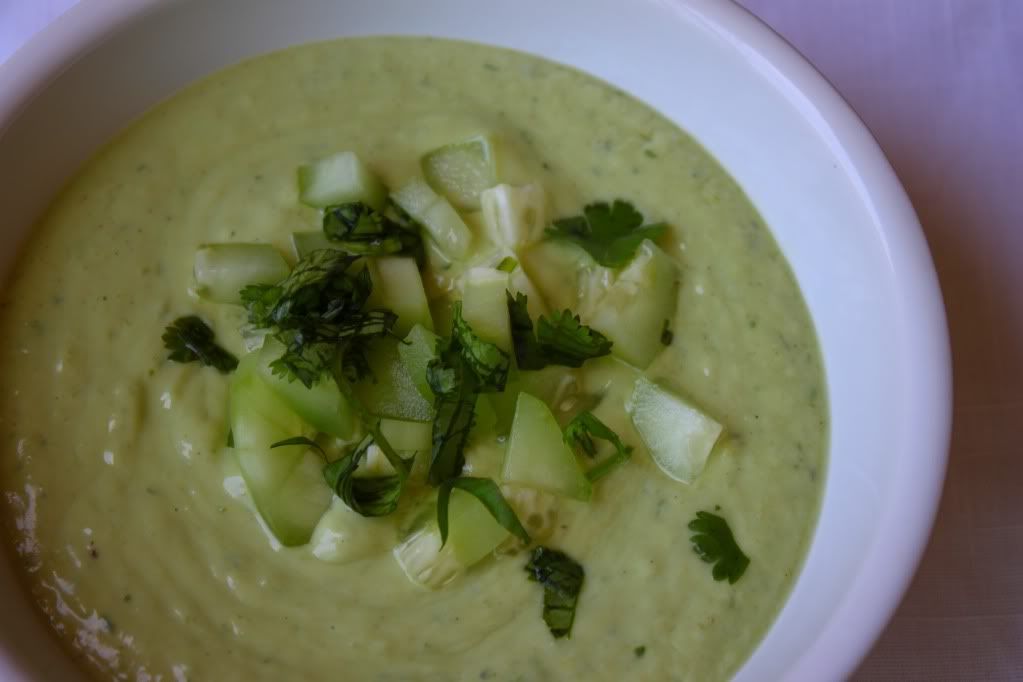 My family loves avocados. I recently discovered a little farmers market shop that is open all week long. They sell giant bags of local organic avocados for $4! Great deal. So every Monday Max and I head on down to pick up some fresh ones for the week.
Chilled avocado soup is something I have always wanted to make. It seems so elegant and sophisticated (at least I think so)...so I had this preconceived notion that the recipe would be super complicated... which means I would most likely screw it up. I have a bad track record when it comes to soup making. I once decided to make a completely salt free minestrone soup (HELLO minestrone soup NEEDS salt) and Ian said it tasted like water downed cat food. So when I saw this
recipe
I thought, "I can DO this." I modified a few ingredients to make my own variation and I could not have been happier with the way it turned out.
What you need:

1 cucumber, peeled and sliced...save a little for the garnish

3 ripe avocados, peeled and sliced


1 tbs of lemon zest

3 tbs of lemon juice

1/4 cup of chopped cilantro (used the cilantro from my garden..YEAY) save a little for the garnish


2 cups of plain non-fat Greek yogurt (my favorite brand is Voskos)

1/2 cup cold water

a few dashes of sea salt (I never measure this stuff)

about 6 dashes of pepper
Directions:


1) Combine all the above ingredients in a blender..and THAT'S it!!! I know easiest recipe ever right?!
2) Top it with the cucumber and cilantro garnish. DONE.

It was such a delightful, light and refreshing meal.
Lesson learned: YES it was delicious!!...but if you have a big guy for a husband he needs more for dinner. I spotted Ian raiding the fridge after my soup dinner ha!