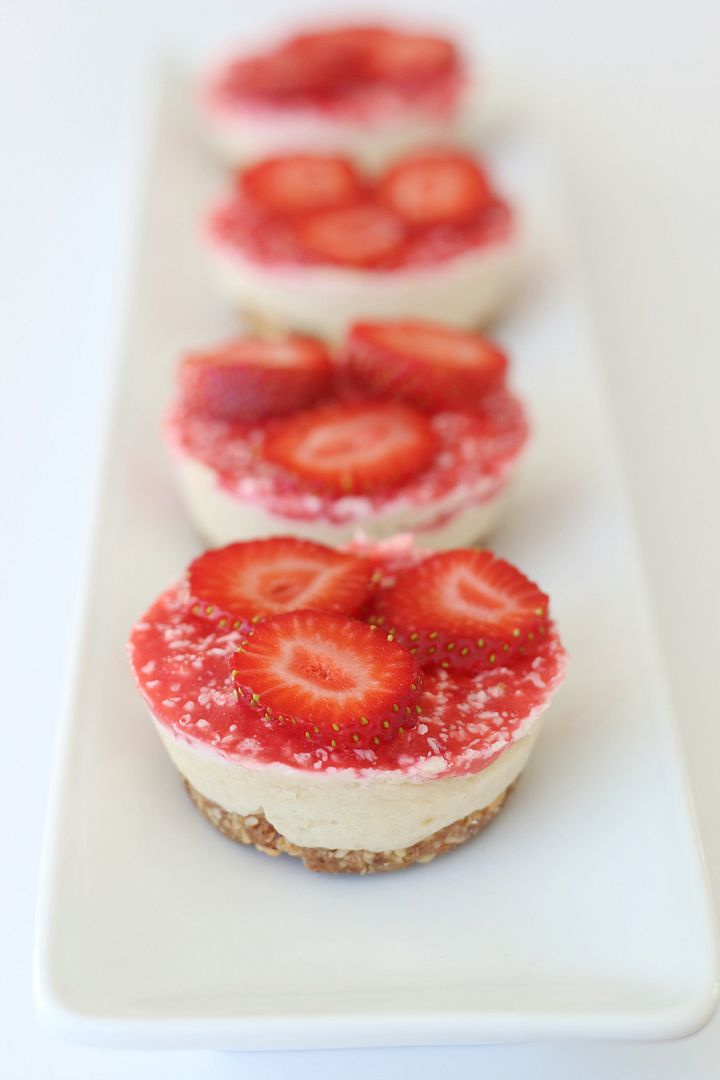 Two recipes actually got posted in one week?! Whaaaat? That might be a record for me. But these were just too good to not share as soon as I possibly could.
Not sure what my deal is this week but I have been on this (way more than normal) crazy baking and cooking streak. Since I am a complete scatter brain the hard part of doing anything when you have a million things burnin through your skull, is deciding which idea to actually execute. ADD problems for sure.
These strawberry cheesecake bites might just be my favorite dessert made to date! They are freaking goooooooood and it's hard to eat just one, which kind of defeats the whole bite size dessert thing but whatever. Do what feels right when it comes to dessert, ya know? :)
These might seem complicated because of all the steps but I promise they are so easy to make. All you are doing is putting everything in a food processor and letting that bad boy do all the work...and then waiting for them to set. If you can measure, you can make these.
What you will need for the crust:
2 cups of almonds
1 cup of pitted dates
1/2 cup of shredded unsweetened coconut
Juice from 1/2 of a lemon
What you will need for the filling:
3 cups of raw cashews
3/4 cup of lemon juice (fresh is best)
1/2 cup of honey
3/4 cup of coconut oil
1tbs of vanilla
* Filling adapted from here.
What you will need for the topping:
8-9 medium to large strawberries
1/4 cup of coconut oil
1 tbs honey
Directions:
Place all of the ingredients for the crust in a food processor. Process until you have a sticky dough consistency.
Take a small amount of crust and roll it into a ball. Then place it on the bottom of your muffin tin and press down firmly so it holds together.
Clean your food processor (the only annoying part of this process) and place all the ingredients for the filling inside. Process until you have a smooth cheesecake filling consistency
Layer the filling on top of the crust, leaving just a little bit of room for the topping.
Place all of the strawberry topping ingredients into the food process and blend until you have a sauce like consistency. (Are you sick of me saying ---- like consistency? I am haha)
Add the topping on top of each mini cheesecake.
Place in the freezer for about an hour or until they are set.
Enjoy!
*I used a silicone muffin tin from
OvenArt Bakeware
and it's the BEST! It makes the whole process of getting your frozen desserts out in the end so much easier. If you can get one I highly recommend it.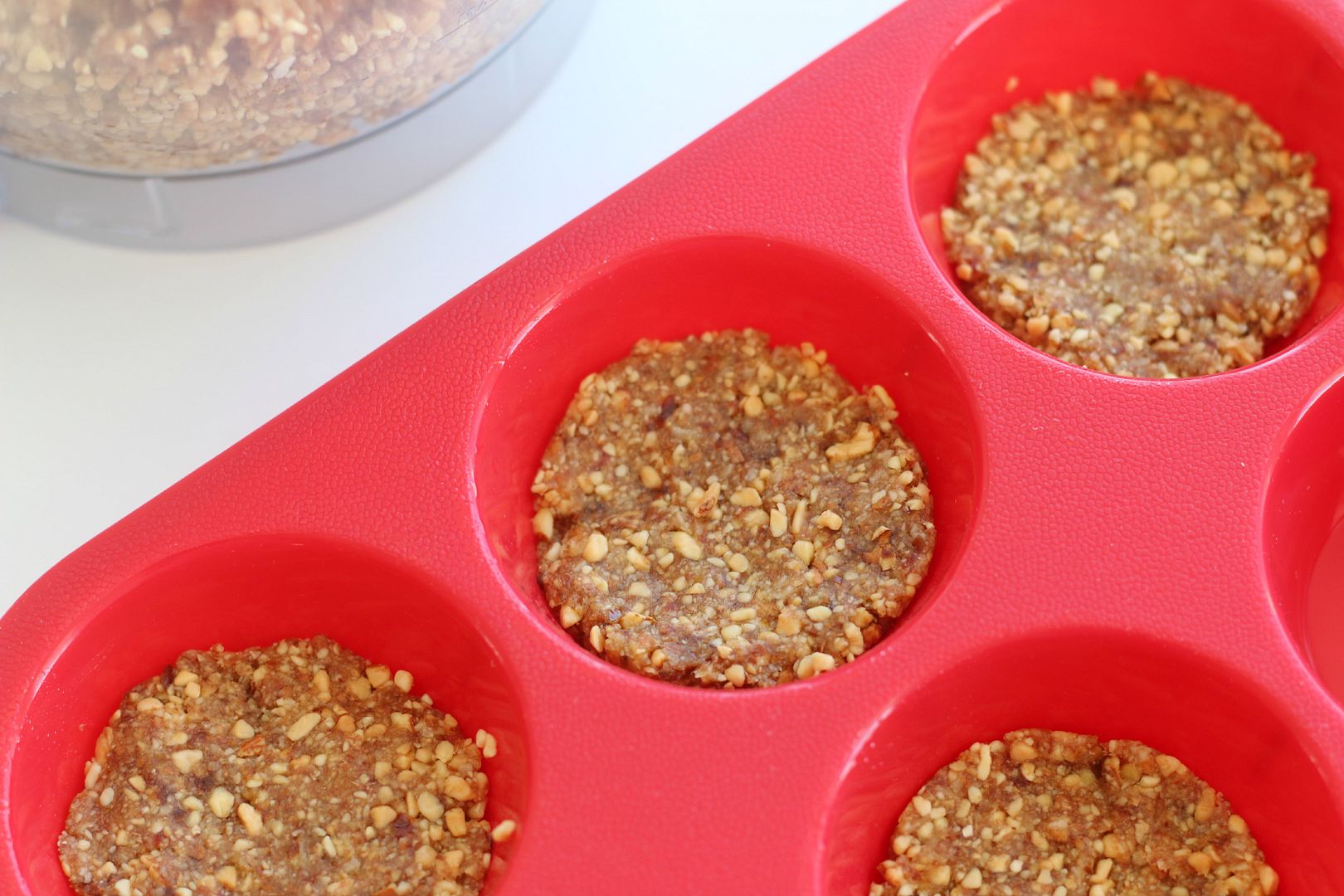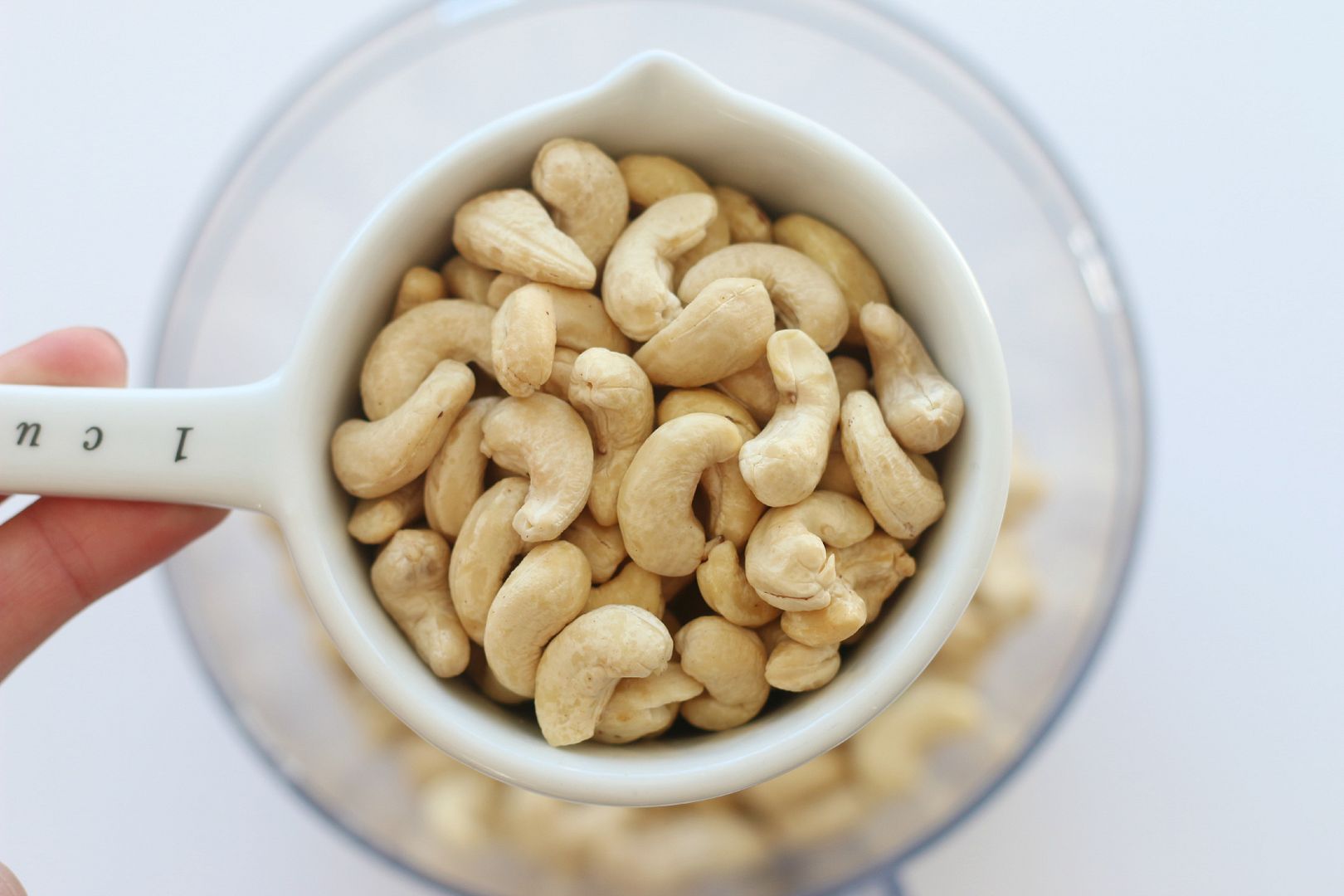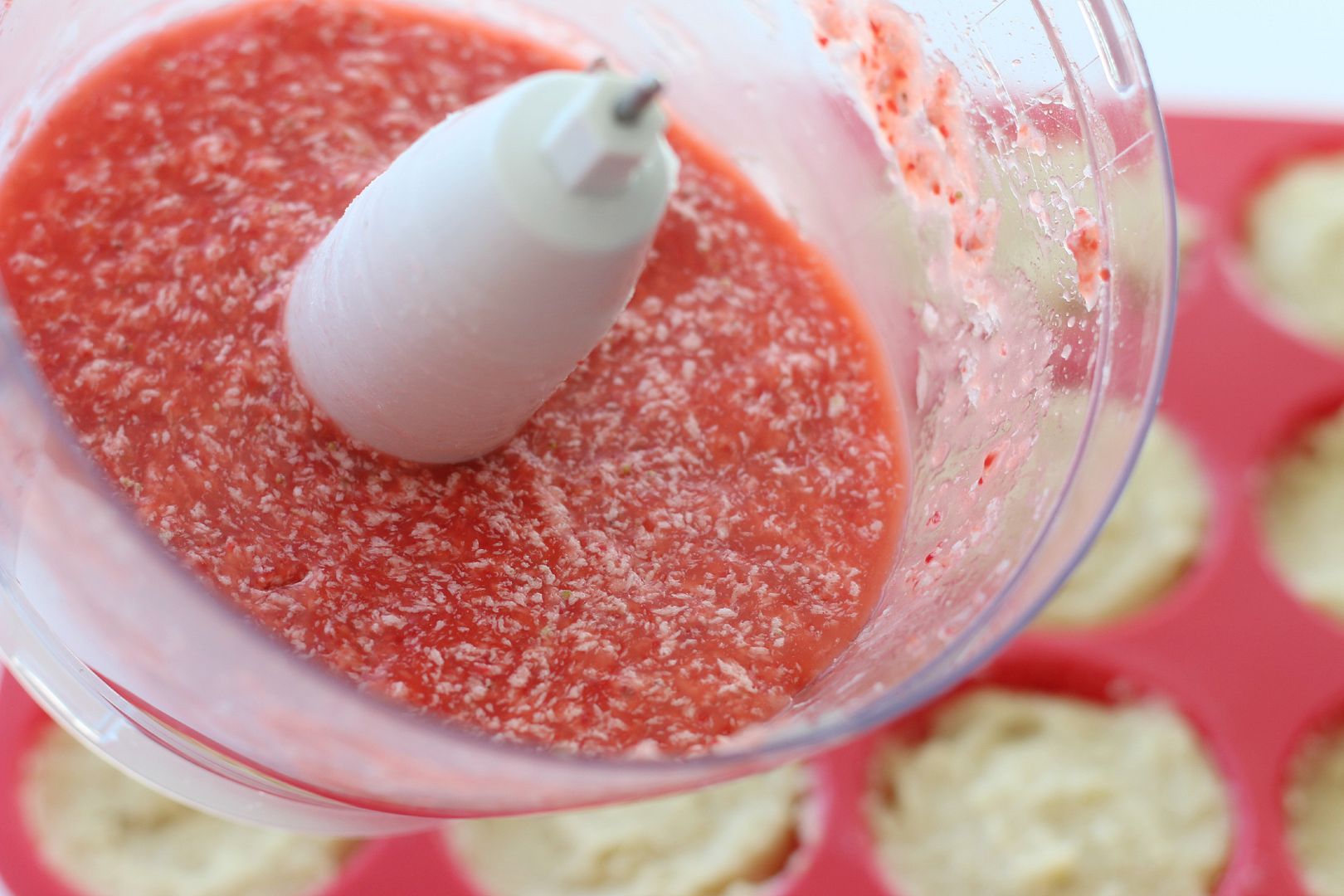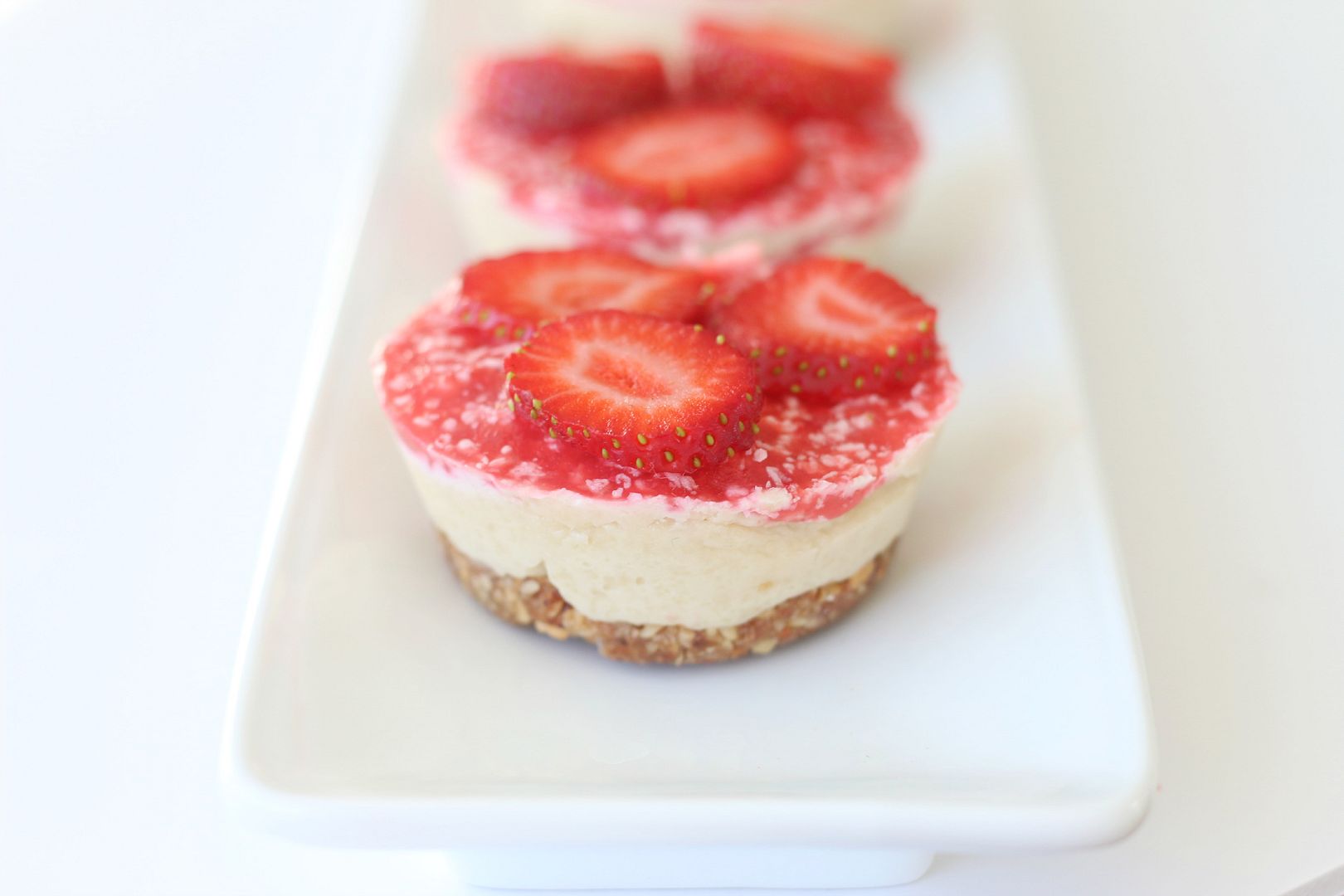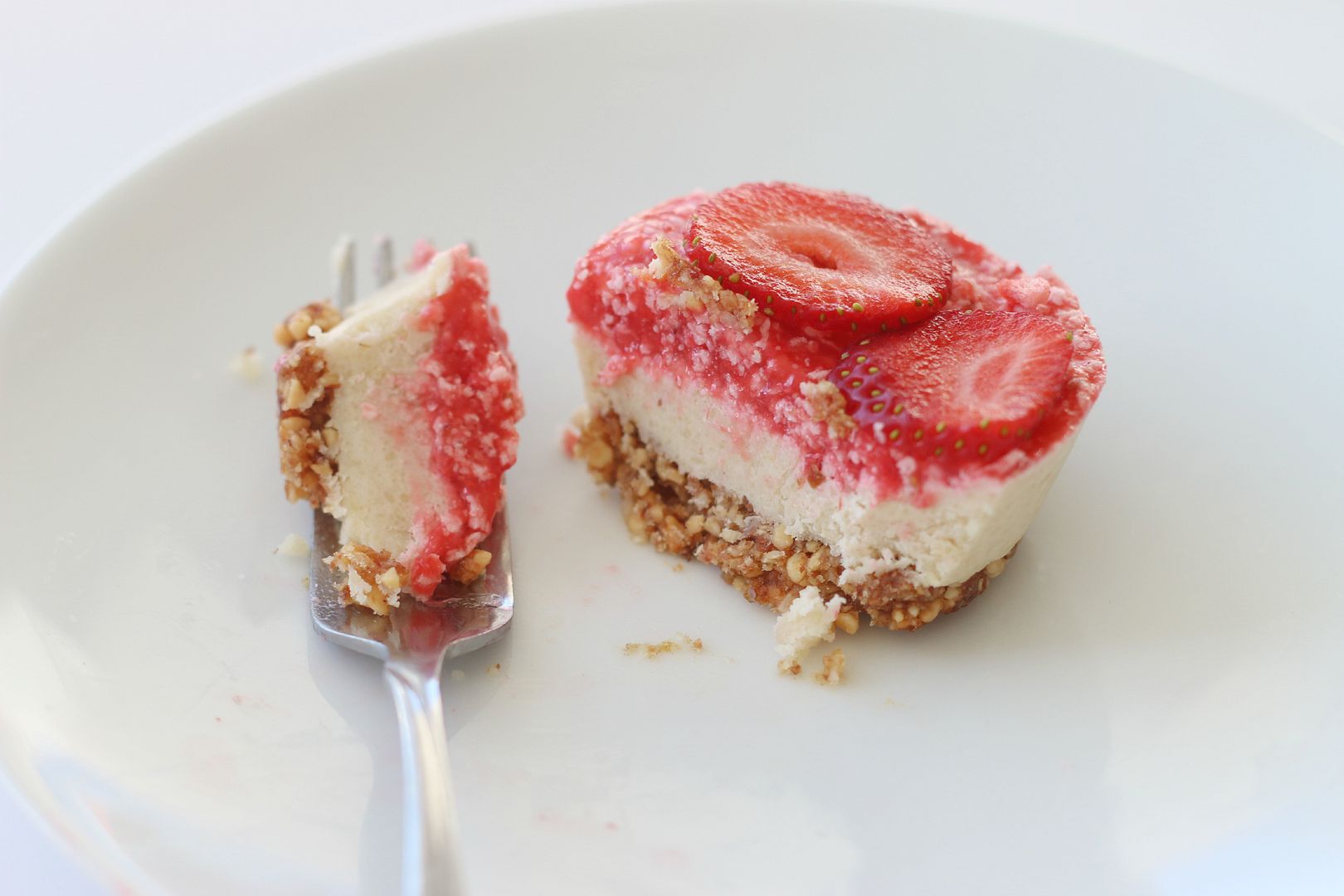 If you make these please come back and let me know what you think!