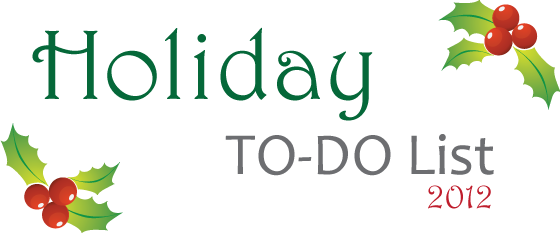 Last year I was a Grinch. Yep, I was a mean grumpy frumpy pregnant Grinch and I feel a little bit (a lot) bad that I was so anti holiday season. If I remember correctly I actually didn't even care if we got a Christmas tree and I would have been fine with one of those little stick ones that I could decorate while lying down. In my defense when you feel like you are going to vomit 24/7 you would not want to do much either. Ladies that don't get sick while pregnant just plain irritate me. This year I am making up for that and I am going to be so festive I might put reindeer antlers and a giant wreath on the front of my car. Okay I would never do that but if you do drive by me you can bet that Mariah Carey and the Backstreet Boys Christmas albums (don't judge) will be blasting out my car window, and I will be singing along...
Holiday to-do list:
1. Make winter sangria.
2. Take Max to Disneyland for the first time (once all the holiday lights are up).
3. Go on an ice skating date with my husband.
4. Go sledding.
5. Snowboard. It has been way too long since I went last.
6. Attempt to actually start and finish a crochet scarf.
7. Go to a Christmas light show (you know where an entire neighborhood participates and lights their houses up while you play the coordinating music in your car).
7. Order holiday Christmas cards way in advance since I am always doing that last minute and stressing. I am loving all
these holidays cards
from Tiny Prints!
8. Anonymously drop off presents and a turkey to a family in need.
9. Have a cookie exchange party with girlfriends. My husband thinks this sounds naughty...and trust me it's not ha.
10. Find the most ridiculous festive matching PJs for all of us...and get a picture of us wearing them of course :)
What are
you
excited to do this holiday season? Please share! I could use a few more festive ideas.