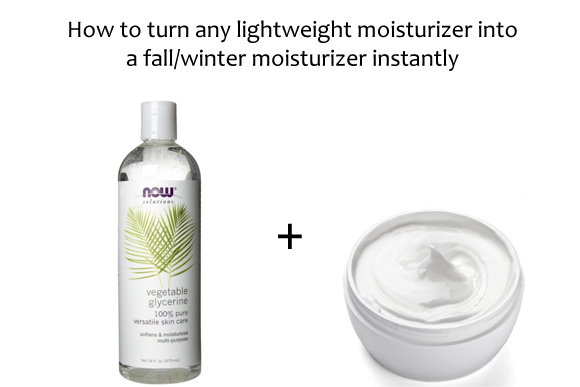 It can get pretty pricey spending money on all new fall/winter skincare products so today I am going to share a really easy, effective and inexpensive way to turn your lightweight summer moisturizer into a hydrating fall/winter moisturizer in just seconds. Not only will you save quite a bit of money, but you will love how incredibly baby soft your skin feels with the added glycerine.
Adding a few drops of 100% pure vegetable glycerine to any moisturizer will instantly make it more hydrating. You can find this at a health store or follow link below.
The benefits of 100% vegetable glycerine:
Extremely moisturizing
Will not irritate your skin
Safe for acne prone and sensitive skin
All natural
Inexpensive to purchase
What you need:
What to do:
Take a small amount of moisturizer in the palm of hands and mix 1-2 drops of vegtable glycerine with it.
Massage into your skin. That's it!
So easy!